VIRTUAL SWING FOR SHRINER'S CHILDREN
Virtual Fundraiser for Shriner's Hospitals for Children
We have a soft spot in our hearts for Shriner's Hospitals for Children- St. Louis.  They have helped so many children, including within the TSI family, receive the medical treatment they need regardless of their family's ability to pay. 
For 27 years, we have hosted our annual Shriner's Golf Tournament in order to support Shriner's with their mission.  Over those years we have raised more than $100,000 to directly help children receive rehab therapy and orthopedic treatment.  Unfortunately, our 28th annual golf tournament was cancelled due to covid-19, but we are not going to let that stop us from keeping our tradition alive!  That is why this year we are taking a Virtual Swing outside the tee box and holding a virtual fundraiser with the hopes of beating last year's donation of $10,000.
How to take a virtual swing
Help us put some positivity back into 2020.  By taking a virtual swing, you will be helping us hit our goal of raising $10,000 that will go towards paying for the rehab therapy of 20 children and the orthopedic treatment for 5 children.  You can donate through our secured payment system through Shriner's, or you can call us at TSI and donate via check or credit card. 
This year we are accepting donations from everybody and pledging to match all donations of $300 or more.  Let's be the difference in a child's life together and make this the best year for Shriner's yet.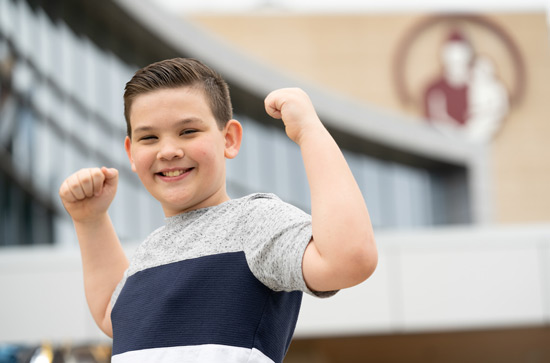 Connor began his journey with Shriner's Hospital for Children-St. Louis at six months old due to one of his legs being five inches shorter than the other. For the next five years, Connor went back to Shriner's every six months to receive a new shoe lift and AFO (ankle-foot orthosis) braces. That's when the doctors informed his parents that they were going to have to amputate his leg or begin a leg-lengthening process that would involve multiple hospital visits and surgeries.   
Connor's parents decided going through the lengthening process would be the best option for Connor, even though it required more rigorous medical care and attention. Today, Connor is a champion for Shriner's Hospitals. His father even became a Shriner to continue giving back to the organization that gave his son a second chance. 
Learn Conner's full story here.
Cierra B's journey with Shriner's Hospitals for Children-St. Louis started after a gun shot wound at age 10.  After receiving multiple surgeries on her leg, she was left with no choice but to amputate her limb when the doctors learned she had arthritis in her ankle and her calf muscle had died. 
Cierra didn't let that stop her from pursuing her interests in sports though.  She underwent more surgeries and extensive rehabilitation that enabled her the opportunity to play and excel at golf, cheerleading, and track and field.  She was even a member of the Kansas Masonic All-State Marching Band for several years.  She enrolled at Emporia University to pursuit a degree in sports medicine with the goal of becoming an athletic trainer for a university or professional sports team. 
By taking a virtual swing with us today, you are helping children like Cierra B. get the opportunities in life they deserve.  Learn more about Cierra's story here.
Meet Avery!  This inspirational young man was involved in a terrible lawn mower accident as a toddler that resulted in the loss of his leg.  After visiting multiple doctors searching for answers, Avery and his family got in touch with Shriner's Hospitals for Children.
Avery received revision surgery on his leg and became a patient in the Pediatric Orthotic and Prosthetic Services, or POPS, program. He formed a special bond with his prosthetist, Darren, who was also in a lawn mower accident as a child. Now eight years old, Avery is able to play the sports he loves including soccer, baseball, and basketball, all because of the care he received.
About Shriner's Hospitals for CHildren
Shriners Hospitals for Children is changing lives every day through innovative pediatric specialty care, world-class research and outstanding medical education. Their 22 locations in the United States, Canada and Mexico provide advanced care for children with orthopedic conditions, burns, spinal cord injuries and cleft lip and palate regardless of the families' ability to pay.