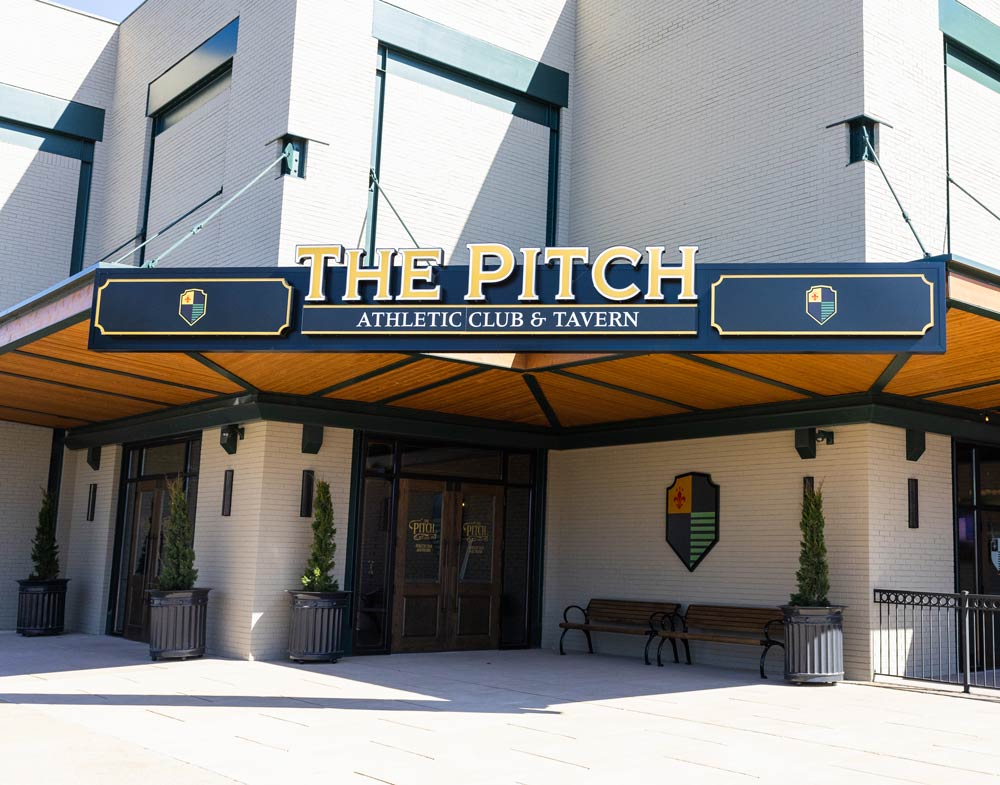 The objective was simple; create an elevated sports bar experience next to CityPark that gives fans the perfect blend of exquisite dining and the power to choose any sporting match being broadcasted/streamed for their personal viewing pleasure.
NOT YOUR AVERAGE SPORTS ESTABLISHMENT
The Lawrence Group designed The Pitch to reflect a well-maintained European pub outfitted with repurposed 100+-year-old wood from Union Station. However, the key differentiator between The Pitch and other sports bars goes beyond the historic aesthetic and delicious food. The technology throughout the 9,200sq. ft. space gives guests the power to select what is being shown on their personal 75" displays controlled by wall-mounted touch panels.
Say goodbye to having to ask staff to change a channel for you. At The Pitch, guests have the freedom to select any game, any channel, and any stream they desire. TSI's audiovisual solution includes a custom IPTV system that allows every TV to be independently programmed to display anything available through Spectrum, DirecTV, or Apple TV.
Typically, sports establishments are equipped with basic AV distribution systems that allow them to control groups of displays at the same time. LHM wanted a user-friendly solution that allowed for every TV to be independently controlled with touch panels.

Tim Duncan, account manager, knew that the audiovisual solution for The Pitch would have to include the perfect combination of manufacturers to be successful. Additionally, LHM asked that the available channels be filtered so that guests can easily view and search from only channels that involve sports content.
CHOOSING THE RIGHT STARTING PLAYERS (BRANDS)
Building a winning AV solution is much like building a winning soccer team. The players have to be able to communicate and work well together while simultaneously exercising their individual strengths on the field.
The TSI team created a custom C# application to interface with a Z-Band IPTV Server, which securely requests channel programs from DirecTV and Spectrum data via HTTPS. The application runs on Crestron's innovative VC-4-PC-3 virtual control platform and retrieves current EPG data every 15 minutes. This data is then organized and sent to a separate app, which distributes the data to the appropriate user interfaces. Users at nine different displays throughout the facility can easily browse and select from an array of games and shows using our custom-designed iPad "Crestron Go" project
Every good sports bar has a visual centerpiece above the bar. TSI chose 110" Primeview displays to span the length of the bar in a ribbon formation. Samsung provided the 75" personal viewing displays, as well as their ultra-bright BHT Series Terrace outdoor-rated displays for stunning picture even in the daytime. Finally, we rounded off the AV solution out with an audio system from Harman Professional and Martin Audio.
Download the full PDF Here